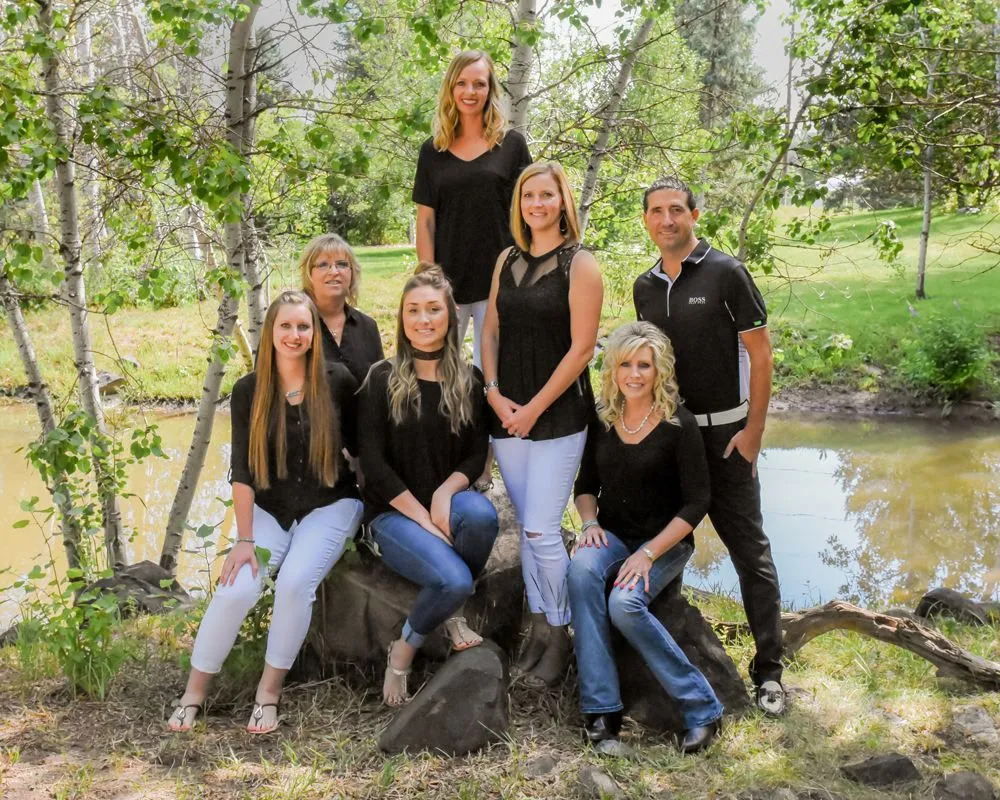 ---
At the core of our dental practice is a friendly team of professionals that are dedicated to your utmost comfort and optimal oral health. We view each patient as a unique individual, and tailor each treatment to your specific needs. As part of our commitment to providing close, personalized attention to every patient, we want to encourage patient communication. Please know that we are here to provide outstanding patient care, and that we value the trust you have placed in us.
Office Manager

Jennifer started as an Office Manager with the practice in July of 2001. She has worked as an Office Manager in a Dental setting since 1993. She moved to Greeley in 1999 but was born and raised in Ft. Collins, CO.

Jennifer has been married to her husband Rick for 22 years and they have 4 children between them. They have also been blessed with 8 wonderful Grandchildren. They also have 3 fur babies...Scout the Greyhound/ Scottish Deerhound mix, Gypsy the Norwegian Forest Cat, and Zoey the Siberian Forest Cat and yes they are all very spoiled!

When not at the office, Jennifer and her husband spend time camping, Jeeping, riding their motorcycle, and traveling in general. She also loves to go antiquing and spends a lot of time baking and making special custom cakes for their Grandchildren's Birthdays (check her out on Facebook, Handle: Crazy Cake Lady- She's an incredible talent!)

Jennifer says that the most rewarding part of her job has been all of the wonderful and fun people she has met over the years and really loves when she hears how comfortable everyone at Dr. Waterman's office makes them feel!

Dental Hygienist

Shawna is a Registered Dental Hygienist and has been with Dr. Waterman's office since October 2007. She is a 2005 graduate of Colorado Northwestern's Dental Hygiene Program in Rangely, Colorado. This is also where she met her husband, Corbin while he was completing his aviation training. Corbin is now a First Officer with Southwest Airlines. The two are doting parents to their daughter Savannah and son Ridge. Savannah keeps the family busy with her dance and volleyball while Ridge just keeps everyone on their toes. As a family, they enjoy camping, hiking (she's bagged 5 of Colorado's 14er whoop whoop), and traveling (especially Hawaii- Aloha).

Shawna is certified to use dental lasers in part of periodontal therapy and is also licensed to administer local anesthesia and nitrous oxide. She prides herself in doing everything she can to ease any fears or anxiety one may have while helping guide our patients to a lifetime of a healthy smiles!

Shawna enjoys working with Dr. Waterman and being a member of his fun and the professional dental team. She loves working in an office where patients can feel at home and leave with a smile on their faces. Her attention to detail and strict adherence to sterilization protocols ensure excellent hygiene care. Shawna's greatest joy in being a hygienist is creating relationships with her patients and educating them to achieve optimal oral health.

Dental hygienist

Annie is one of our three Registered Dental Hygienists who received her training at Coastal Carolina Community College in Jacksonville, NC. She received her training while her husband, Mark, was serving in the United States Marine Corps and was stationed at Camp Lejeune. Mark is now a reservist with the Air National Guard and works full-time in the oil field. We are thrilled that after their time in North Carolina, Annie decided to return to her hometown of Greeley to resume her Dental Hygiene career. Annie and Mark have three beautiful children together including their twins, Jordan and Lexi, and their youngest, Tinley. She enjoys doing things outdoors such as hiking (she's done 3 of Colorado's 14ers whoop whoop), camping, paddle boarding, and watching their kids play soccer.

Annie is laser certified to assist in periodontal therapy and is licensed to provide both nitrous oxide and local anesthesia.

Her favorite part of her profession is getting to know her patients and building long-lasting relationships with them, as well as helping them to obtain the best oral health possible. Making her patients feel comfortable is one of Annie's top priorities during their visits with us.

Dental Hygienist

Shanna has been with our office since November of 2014. Shanna received her hygiene degree from Texas Women's University in 2012. Shanna is one of our three dental hygienists and is available 4 days a week. She prides herself on her gentle care and on putting her patient's needs before her own.

Shanna is dental laser certified to assist in periodontal therapy and is licensed to provide nitrous oxide and local anesthesia to make her patient experience more enjoyable.

Shanna moved to Northern Colorado after getting married to her husband Kelsey in June of 2014. They have a 2-year-old daughter Lennix who loves to swim and play outside. They are also currently constructing a bed and breakfast in Windsor (check it out when it's done). They enjoy camping, riding motorcycles, and going to the mountains as often as they can.

She loves working with Dr. Waterman and enjoys helping all of her patients with their dental health.

Chairside Assistant

Meaka has been with our practice since October of 2014. She has over a decade of dental assisting experience with a special emphasis on working fantastic with children. Meaka, much like myself, was born and raised right here in Greeley. Her friendly demeanor has been such an asset to putting our patients at ease.

In November 2020 she started her own eco-driven, mission-based clothing company called Esoterics Apparel, which brings awareness to beetle-kill issues that we face throughout the mountain west. Part of the proceeds from each purchase goes toward supporting these issues (you can check it out at isotericsapparel.com).

In her free time, Meaka and her significant other Jordan enjoy working on the remodel of their first home, playing with their basset hound Charlie and spending quality time with friends and family.

Chairside Assistant

Marie is one of our two chairside assistants. She has x-ray, nitrous, and CPR certifications. Marie has been with Dr. Waterman since the very beginning when he took over the practice from Dr. Coleman in October of 2000.

Marie likes to spend her time off work with her husband Randy and her family. She has enjoyed spending time with her and Randy's 6 children as well as all of her grandchildren. She also loves to garden, camp and fish, and her and Randy's newfound passion of travel (especially cruises)!

Her favorite part of her job is working with and helping the patients. Her lifelong dream is to visit her country of origin, IRELAND!